Department of Justice used to handle prosecutions but that task has now been outsourced to a private corporation under contract to the government Public Prosecutions Services Canada (PPSC).
Yes they are a corporation. Yes they are listed on the SEC in Washington DC and their website demonstrates they believe themselves to be above the law…. WHAT?
If you put any credence in "the law of the flag" rule (like every nation does) any official document advertises the authority it is issued under by the placement of a flag or coat of arms on the TOP of the document.
PPSC website has a "negative" black and white flag and the corporate Canada wordmark along the top minus the official colors and in reverse/negative tones – do you think that is a hint?
Next scroll to the bottom and you will see a small Canada coat of arms – at the bottom – in total opposition to proper authority and display.
If you have a PPSC "Crown" lawyer harassing you here is the complaint process:
http://www.ppsc-sppc.gc.ca/eng/cmp-pln/index.html
And learn about their mandate and ethics here: http://www.ppsc-sppc.gc.ca/eng/bas/index.html#mav
You also might want to read their manual:
Federal prosecutors, whether employees of the Public Prosecution Service of Canada (PPSC) or private-sector agents, are guided by the rules and guidelines included in the PPSC Deskbook (
html
) (
pdf
).
The PPSC Deskbook sets out the guiding principles which all federal prosecutors, and persons acting as federal prosecutors, must follow.
It contains directives and guidelines that instruct and guide federal prosecutors, whether employees of the PPSC or private-sector agents, in the exercise of their prosecutorial discretion.
The PPSC Deskbook replaced the FPS Deskbook (archived) on September 2, 2014.
A Reminder From Their Boss That They Better Follow the Manual:
On June 16, 2014, the Attorney General of Canada issued a directive under section 10(2) of the Director of Public Prosecutions Act directing that all federal prosecutors and persons acting as federal prosecutors respect his directives set out in the PPSC Deskbook. This applies concurrently with the guidelines issued by the Director of Public Prosecutions and contained in the PPSC Deskbook.
---
http://www.ppsc-sppc.gc.ca/eng/bas/index.html#mav
Role of the Prosecutor
Canadian courts expect a great deal from prosecutors, who are subject to ethical, procedural, and constitutional obligations. Traditionally, their role has been regarded as that of "a representative of justice" rather than that of "a partisan advocate." Their functions are imbued with a public trust. Prosecutors are expected to discharge their duties with fairness, objectivity, and integrity. Their role is not to win convictions at any cost but to put before the court all available, relevant, and admissible evidence necessary to enable the court to determine the guilt or innocence of the accused. As stated by the Supreme Court of Canada in Boucher v. The Queen, [1955] S.C.R. 16, at 23-24:
It cannot be over-emphasized that the purpose of a criminal prosecution is not to obtain a conviction, it is to lay before a jury what the Crown considers to be credible evidence relevant to what is alleged to be a crime. Counsel have a duty to see that all available legal proof of the facts is presented: it should be done firmly and pressed to its legitimate strength, but it must also be done fairly. The role of prosecutor excludes any notion of winning or losing; his function is a matter of public duty than which in civil life there can be none charged with greater personal responsibility. It is to be efficiently performed with an ingrained sense of the dignity, the seriousness and the justness of judicial proceedings.
PPSC on SEC Listing: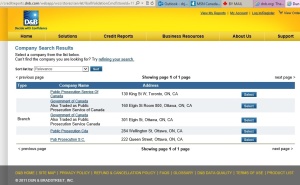 PPSC Home page image below- click to open in new window